The core of this manufacturing line utilizes our fully automatic rollforming system with dynamic width adjust about center line. This allows the ability to roll form sectional door panels varying in width. The appropriate width of the panel can quickly be adjusted within seconds via a colored touchscreen, or let the algorithm perform automatic calculation based on basic inputs such as door width, height, and quantity.

The style of the panel such as embossment pattern, corrugation layout, flush, and raised pattern in the panel can also be implemented in the manufacturing system as well. Pilot holes for the installation of inside stiles (post) & end stiles (outside post) are automatically punched in-line.

Key Features:
Dynamic Width Adjust about center rollforming mill
Tool steel grade & hard-chrome plated forming rollers
Rotary side trimming rollers and scrap choppers
In-line pilot hole punching
Variable width corrugation forming rollers with hydraulic cylinders
Advanced algorithm for automatic calculation via colored touchscreen interface with programmable logic controller
Fully customizable paint coloring

Optional Features:
Fully insulated PUR/PIR Foam Injection System
Steel Embossing System integration
Hydraulic Tile Press for raised panels
Motorized Side Transfer & Assembly Table
Dual Mandrel Un-coiler & Coil car
Orbital Wrapping Machine
ERP (Enterprise Resource Planning) System
Label Printer
Panel Width Manual Adjustment via spacers


Peripheral System:
There are other components of a sectional overhead door which can be fabricated by SEAHOW rollforming system incorporated with or without additional equipment.
Stile Production Line
Since the difference between the end stile and the center stile is their height, hence we can utilize hydraulic piston to width adjust several roller stands to produce the same basic profile, but with two different height in a single rollforming machine. All necessary perforations are done in-line as well. The changeover is as simple as choosing the desired matching panel on the touchscreen interface. The number of stiles are automatically calculated and produced based on the panel length (door width).

Track Production Line
The production line is capable of producing one pair of handed horizontal tracks and one pair of handed vertical tracks in a single rollforming machine. All necessary perforations for either the horizontal or vertical tracks are done in-line. The different lengths of horizontal track for different radius are automatically calculated by choosing the desired door height and radius.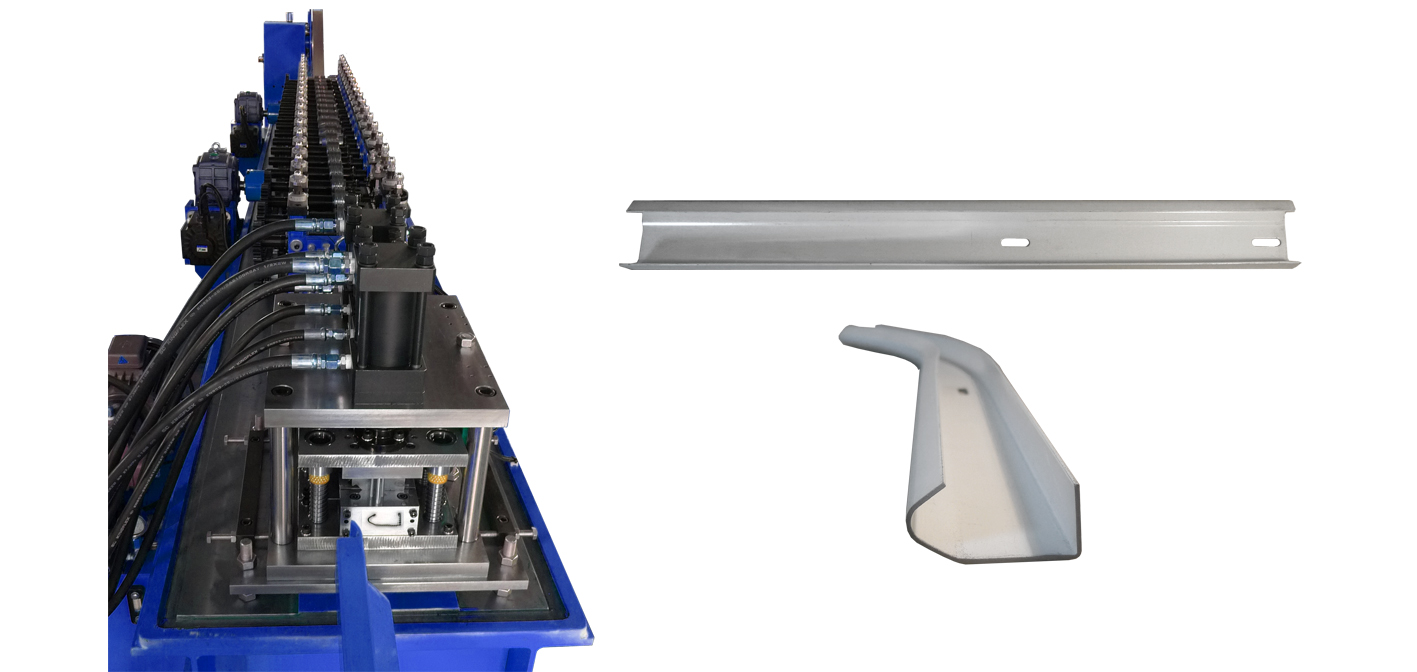 Utilizing a Semi-Automatic Rotary Hydraulic-Powered Bending Machine with a specially designed mandrel, the two handed horizontal tracks are bending in one pass. This method forces the open profile of the track to be more of a closed profile, thus the bend is always smooth and wrinkle-free with minimum deformation. Most importantly this method increases productivity and eliminate the need of a separate bending machine.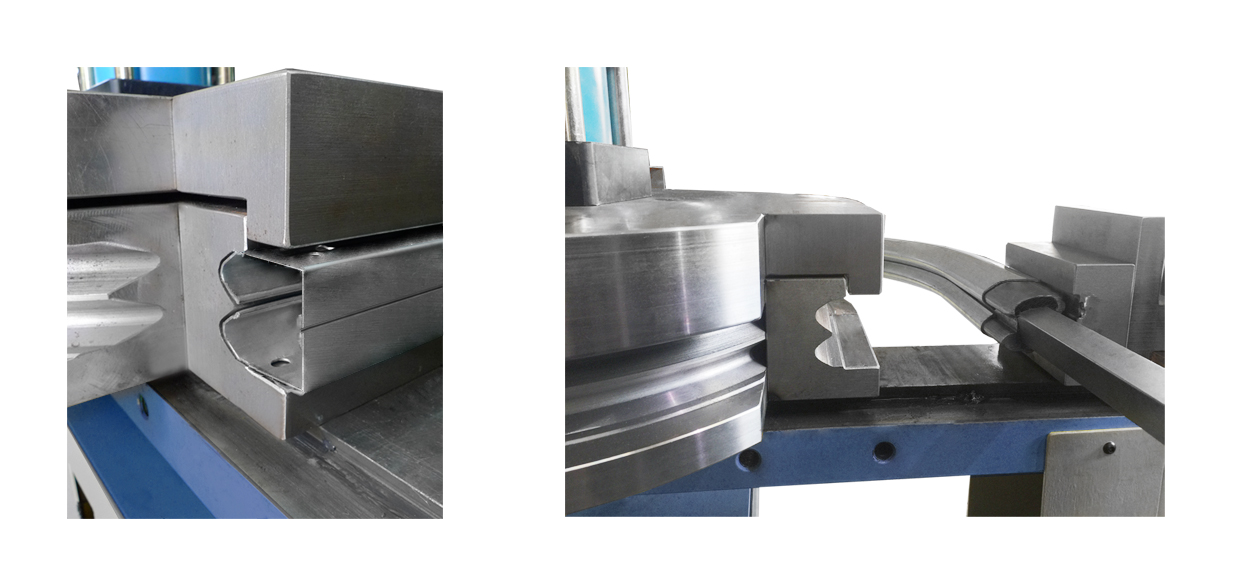 Reinforced steel angle
The production line is capable of producing one pair of handed steel angles for the matching handed horizontal tracks. All necessary perforations and notching are done in-line and perfectly matching the corresponding tracks as well.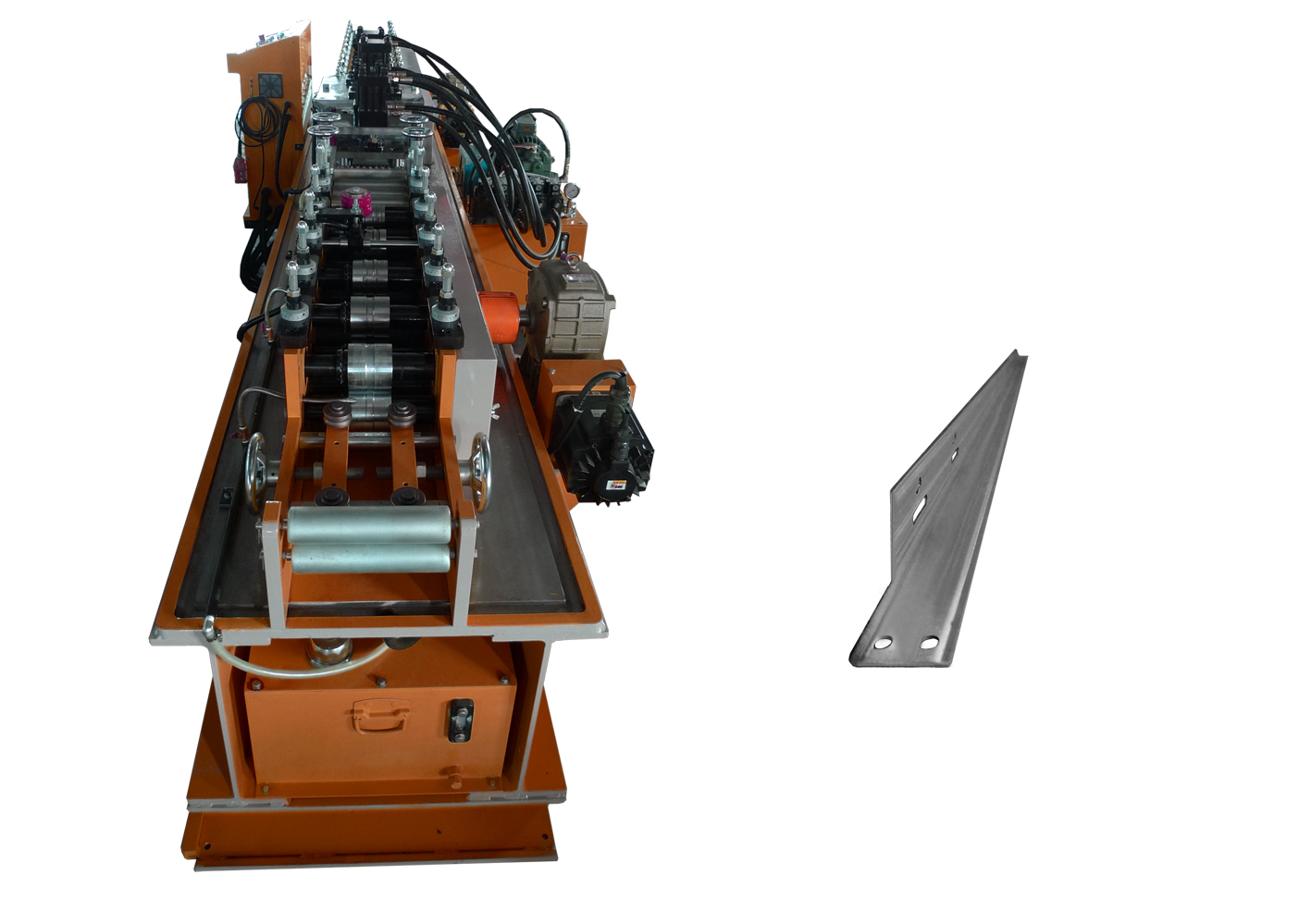 Wind-resistance strut
Traditionally the wind-resistance strut is produced by a press brake due to its larger and deeper corrugation. However, we are capable of producing the strut equaling in strength, but far more efficiently, in a single rollforming machine complete with additional reinforced rib lines and hemmed edges. All necessary perforations are done in-line.